Disasters, we never exactly plan for them to occur, but we should!
By the very nature of most disasters, recovery can take some time. Even with the best laid plans, without a complete and tested Disaster Recovery Plan (DRP), most small businesses would struggle to ever get back to where they were before disaster struck.
What should you be backing up?
At the very least, all vital and operational documents, registers, and databases, including your Accounting package, should be backed up on a nightly basis.
A solid DRP for a small business would include a combination of onsite and offsite (cloud) backup solutions.
A Network Attached Storage Unit (NAS) of 1 or 2TB in size would suffice most businesses, which if the backup is set to Incremental, these units will usually hold up to 3 to 6 months worth of data.
The onsite incremental backup should be set to run every night, and should also backup the company email store.
A combination of the onsite as well as an offsite solution should be adopted for an all round DRP.
Your insurance company will love you for it.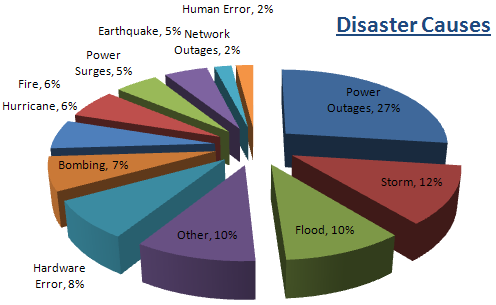 Getting back to business following a disaster
Depending on the severity of the disaster, you could still find yourself requiring cash flow to purchase new computers and servers on which to operate, well ahead of the insurance company coming to inspect your site.
Add to this, sourcing replacement copies of your software and if necessary, serial numbers, etc.. You then need to factor in the time and costs to have all of the software reinstalled and configured.
Getting up and going again can be a real challenge, and most small businesses would simply not be able to cope, with limited cash flow available at such a time.
How can I best shield my business from disasters and make recovery easy?
The simplest solution to an all round protection policy available to all businesses large and small, is to operate as much of your business via a Cloud Provider, or at least use a Cloud Backup service.
Generally speaking, your email (unless you host your own Exchange server) and your internet banking, are two protocols you already operate via the cloud.
Why not consider your accounting package, via Reckon Accounts Hosted or Reckon One, Xero or Saasu, amonst others.
For your Office documents, you may consider Office365 (which offers virtual Exchange hosting), or a free solution such as Google Docs.
Quicker recovery via the cloud
Via any of the above cloud solution pr0viders, or you may choose a Private Cloud solution to host all of your business requirements, getting back online need be as easy as going to your local Internet Cafe or logging on via your iPad or home PC.